Champion colt Lammtarra was put down at Sheikh Mohammed's Dalham Hall Stud in Newmarket on Sunday.  He was 22.
Lammtarra (Nijinsky – Snow Bride by Blushing Groom) won the 1995 English Derby, King George, and Arc de Triomphe, becoming only the second horse after Mill Reef in 1971 to win those three races in one year.
Undefeated in four starts, Lammtarra was retired to Dalham Hall Stud at the end of 1995 and was bred to a full book of mares before being sold the following year to stand at Arrow Stud in Japan.
He wasn't a success at stud, siring just 7 stakes winners, and returned to Dalham Hall in 2006 to live out his retirement.
"Lammtarra was very intelligent and never gave anyone a moment's trouble," Darley spokesman Liam O'Rourke said.  "Sadly, this was his time to go and he will be missed by everyone here at Dalham."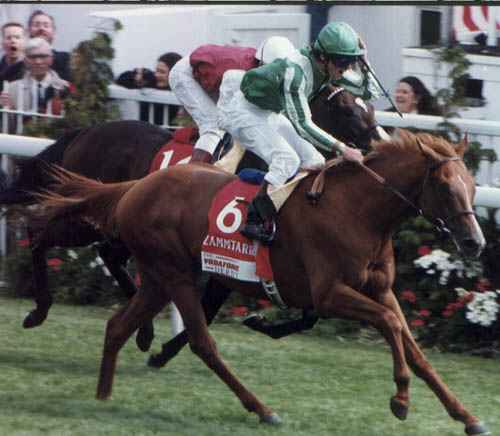 LAMMTARRA