Allandale Park's revamped stallion roster for 2012 complements a unique agistment facility in the 'high country' south of Bathurst in NSW.
Studmaster John Todd has been based at the Hobbys Yards nursery for many years and his daughter Claire is helping develop the property into a 'one-stop' service for owners and breeders.
Irish bred sires Annenkov (Danehill) and Barbajuan (Danehill Dancer) head to line-up at Allandale and the roster also includes Australian stallions Assafa (Danehill) and Diogenes (Marscay) plus the Canadian evergreen Carry The Crown (Vice Regent).
"We are approximately 1000 metres above sea-level and horses love it up here," Claire Todd said. "We hand-feed every day and they appreciate the rolling hills and crisp, clean air.
"Federico Tesio was a stickler for clean air and high altitude," Claire continued. "He trained horses at 1500 metres and spelled them higher still."
Based in Northern Italy, Tesio purchased horses with unfashionable pedigrees and turned them into champions at Dormello Stud which borders the Swiss Alps. He bred and trained and incredible 22 Italian Derby winners including Nearco and Ribot who are legends of the turf.
"We see horses from city-based stables bloom up here," Claire explained. "Some of them arrive quite jaded but, after a break, they're raring to go back into work."
The Allandale agistment rates are very competitive. Daily rates are $12.50 for racehorses, yearlings, foals and wet mares. The foaling down charge is $400 and there are float rebates for approved mares.
One of value sires on the Allandale roster is Diogenes who hails from the famed Eight Carat family. His dam is a half-sister to G1 winners Bonanova (VRC Emirates Stakes), Telesto (STC George Ryder Stakes) and Fraternity (AJC Spring Champion Stakes).
Diogenes (Marscay – Klairessence by Sir Tristram) was raced by Bernie Hudson and Paul Newton. He won at Canterbury and, overall, was placed four times in five starts for trainer Graham Begg. His stock are striking at a 50% success rate and Allandale has set his 2012 service fee at $1,320 (inc gst) with a Free Return.
For further enquiries, owners and breeders can all John or Claire Todd on (02) 6368 8626
– Karl Patterson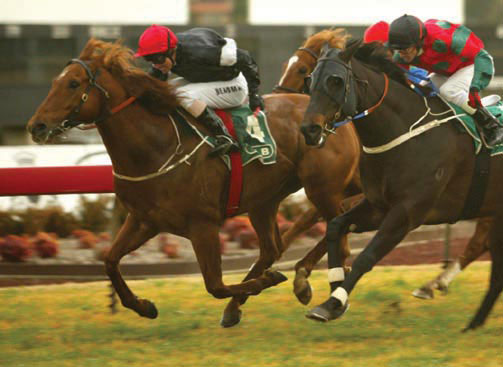 DIOGENES
Allandale Park sire scores a front-running victory under Darren Beadman at Canterbury