Tareena Bloodstock owner Ian McRobert tapped into proven sirelines when he bought Killy to stand at his stud in northern NSW.
Killy is by champion sire of sires Redoute's Choice and his older half-brothers Snowland, Snippetson and Freeze have all been credited with stakes winners at stud.
With looks to match, Killy was hot-property as part of the Tyreel Stud draft at the 2008 Inglis Easter yearling sale.  Bob Ingham opened the bidding at $1.60 million but, after a spirited duel, Sheikh Mohammed's bloodstock advisor John Ferguson had the final say at $2.50 million!
Tyreel Stud's Dean Fleming was pleasantly surprised when the two heavyweights went head-to-head.  "He's a great looker and the family tree is outstanding," Fleming said after the colt was led out of the ring.  "We knew he would be popular but the price surprised the hell out of me.
"His dam (Snowdrift) has had five to race and all five have won with three of them winning two year-old stakes races.  And this one is the best bred of the lot."
Named after Olympic alpine skier Jean-Claude Killy, the colt was placed with Peter Snowden at Warwick Farm, however, after trialling at his home track as a spring three year-old he was struck down with a career-ending illness.
McRobert had purchased Danehill sire Manton shortly after Darley acquired the Woodlands operation and he was in the right place at the right time when Killy came on the market.
"Killy is a magnificent individual and I count myself lucky to have him at Tareena," McRobert explained.  "He's been based here for two years and we're looking forward to building on those books this season.
"He's a very fertile stallion and his first-crop yearlings really look the part.  The Redoute's Choice sireline is flying and the bottom half of Killy's pedigree also has a proven track record of producing successful stallions."
Killy stands for a $3,000 service fee alongside Manton and Floral Dynamite at Tareena which is situated south of Taree.  Broodmare owners can contact Ian McRobert on (02) 6553 1204.
– Karl Patterson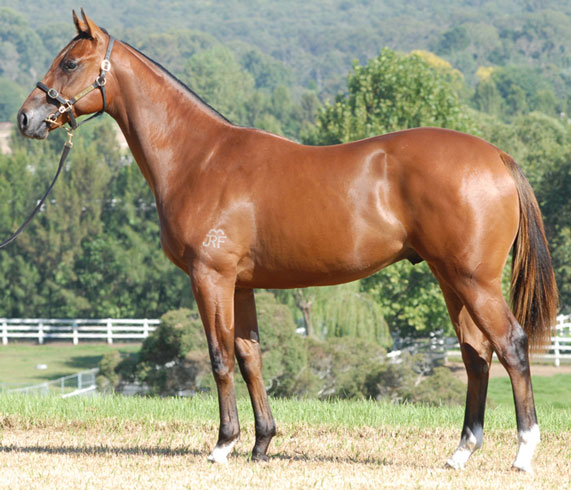 KILLY
Pictured as a yearling prior to the 2008 Inglis Easter Sale where he realised $2.5 million